07 Nov

How to Use Network Detective to Identify your Win 7 Machines

Operating Systems are the engines that drive the modern world as we know it. Not much can be done without them in most circumstances, and they are the reason computer hardware (usually) functions properly. If the OS fails, the machine may as well be a lump or scrap metal. So why is it that so many companies neglect these pervasive and significant artifacts?

With the advent of a new decade comes the funeral of a Windows operating system. Last time this happened it wasn't such a big deal – I don't think a person who's walked the Earth had any affection for Windows Vista. But this time it really hits home for a lot of people as Microsoft will end extended support for the beloved Windows 7 on January 14th, 2020. Its speed coupled with simplicity and minimalist functionality made it a force to be reckoned with in the global marketplace, but I digress. I'm not here to tell you about how great Windows 7 was, how bad Windows Vista was, or what an OS does (most of you already know). I'm here to tell you why you should care about Windows 7's end of life (EOL), and how to get a jump start on upgrading the soon to be security holes in your customer's networks.

Let's start with why you should care. Any end of life software presents many problems for both you and your customers. Just to name a few:

Vulnerabilities: not even your state-of-the-art antimalware, firewall, or Bill Gates himself can protect you from a hacker who exploits a system security vulnerability, and Windows 7 being end of life means that these will never be patched by Microsoft. This can lead to a multitude of problems typically resulting from the execution of malicious code and can even lead to a dreaded data breach. Security vulnerabilities deserve an entire article by itself, so I'll stop here on this one.

Higher Operating Costs: a buggy OS can lead to downtime, which is expensive for all businesses. Since Microsoft is no longer fixing bugs, running newer software applications on Windows 7 can lead to compatibility issues with other software applications which can require time consuming and tedious workarounds, or just flat out not work altogether.

Compliance: whether it's HIPAA, PCI, GDPR, NIST, or most any other standard, organizations subject to compliance regulations are under strict scrutiny when it comes to EOL software as it poses so many risks. Running Windows 7 after support is ended will put these companies at risk of heavy fines, losing clients, or much worse.

So now we know why this is such a large concern, but what do we do about it? Let's be honest, most everyone has clients who house Windows 7 machines, and some of them we may not even know about as they've slipped under the radar – ultimately becoming migraine inducing rogue PCs. And as we've already covered, an end of life OS is bad news for any organization.

Luckily, here at RapidFire Tools we have solutions that will make every MSP's life a bit easier with finding these machines and determining if their hardware can undergo an OS upgrade, which can be an arduous task. With Network Detective Pro, you can easily scan all of your customer (and prospect's) environments and generate documentation which will pinpoint these computers and display all the relevant information needed to determine upgradability.

Today I'm going to share two methods this can be accomplished using Network Detective. But before doing that, I'd be remiss not to cover the easiest way to pinpoint your EOL Windows OS computers. By using the Network Risk Analysis and Network Management plans, we can easily see which computers need to be decommissioned or the OS upgraded. In the Risk Analysis we have a risk dedicated to computers running an unsupported OS as shown here:

The Network Management Plan lists the specific machines:

This makes it incredibly easy to see where your Windows 7 machines are, but we're going to take it one step further and get into more detail so we can determine which machines are worth pushing a Windows 10 upgrade to, and which should be decommissioned entirely and scrapped for parts (at some point you gotta turn the horse into glue).
1. The Full Detail Report
The first method I'm going to suggest is using the Full Detail Report. This is debatably the most powerful report offered with Network Detective. In addition to the plethora of information offered by this extensive report, it also comes in handy for isolating computers and viewing the specs. This report comes in both .docx and .xlsx format, but I much prefer to use the excel form as it's much easier to filter out and manipulate the data. What I do for this exercise is generate my Full Detail excel report and navigate to the "Computers" tab. From there I'll convert the tab to a table (InsertàTable) and filter out all OS types other than Windows 7. From here I have a clean view of all my computers running Windows 7 and can see the hardware specs of each one and determine if I want to upgrade or replace them.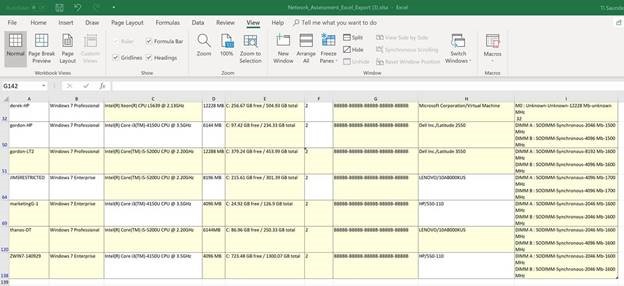 2. The Data Explorer
Another way we can drill down on this information is using the Data Explorer which is built into the Network Detective application. No need to even generate any reports. All you need to do is import your data into any assessment and click the "Explore Data" button: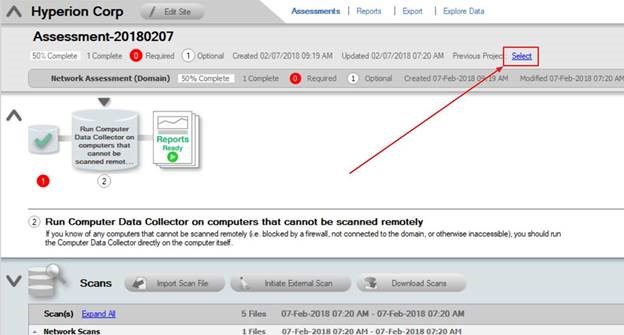 From here you can sort all of the computers by OS, view all of your Windows 7 computers, and double click on whichever one you want to know the specifications of (assuming you're hoping for an upgrade):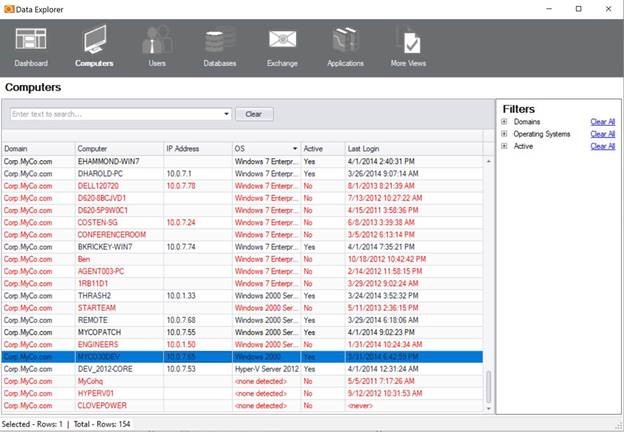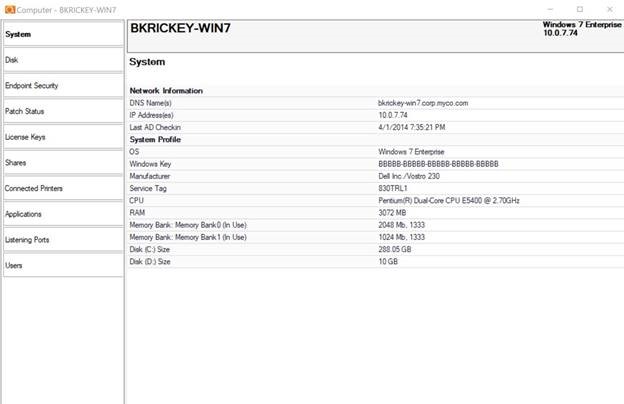 One thing I will add before ending this post are Microsoft's recommended requirements for running Windows 10. This is so you have some reference when deciding which machines you want to upgrade, and in case you are performing this exercise without access to Google and only this blog post.
Processor: 1 gigahertz (GHz) or faster processor or SoC
RAM: 1 gigabyte (GB) for 32-bit or 2 GB for 64-bit
Hard disk space: 16 GB for 32-bit OS or 20 GB for 64-bit OS           
So that's about it. I hope this article sheds some light on the severity of running EOL software, helps spread awareness on the topic, and gives you a little insight on how to best utilize Network Detective in locating and rectifying these problem PCs.
Click here for a demo.