Critical IT Change Detection
Detect the critical changes inside the networks you manage that create risk. Whether caused by hackers, internal bad actors, or honest mistakes, Cyber Hawk will sound the alarm on hard-to-detect critical changes in your network.
Improve Managed Security With High-Value Change Detection
More than 70% of cybersecurity incidents today are the result of undetected changes that no firewall could have prevented. Add an essential layer to your IT security and risk management with Cyber Hawk's critical IT change detection and alerting capabilities.
Detect suspicious activities within the networks you manage
Get alerts on potential threats that traditional antivirus software cannot detect. Identify changes that may signal malicious activities. These may include changed access to restricted systems; attempted access to restricted systems by new users; and anomalous end-user behaviors such as logins at unusual hours.
Respond quickly to high priority issues
Quickly triage detected issues with interactive email alerts that rank changes based on severity. Choose to ignore benign or known changes and stop future alerts. For issues that need further investigation, automatically create follow-up tasks in the Cyber Hawk management portal or create PSA service tickets.
Detect changes with artificial intelligence
Proactively safeguard the networks you manage with Cyber Hawk's powerful critical change detection features. With built-in machine learning, it tracks activity over time, establishing patterns and trends that can represent real threats if sudden changes are detected. The longer Cyber Hawk runs on your networks, the smarter it gets.
Our Ongoing Innovation in IT Change Detection
Organizational Updates from IT Glue
Instantly onboard new organizations inside of all the RapidFire Tools applications directly from IT Glue. Organizational updates made in IT Glue automatically update all RapidFire Tools orgs.
Released November 23, 2022
Cyber Hawk's Critical IT Change Detection Features
Cyber Hawk finds unplanned, unauthorized and malicious network changes that represent potential threats. It sends you alerts to ensure the integrity, security and stability your network.
Automated scans with minimum setup
Get started detecting changes immediately with minimal configuration. All ongoing adjustments are automated which makes managing your internal threats effortless. The more you use Cyber Hawk, the better it gets.
Smart tags customize your experience
Easily customize what Cyber Hawk looks for and ignores based on your specific IT environment. Cyber Hawk's intuitive rules engine, called Smart Tags, is easily managed with a simple check-list menu.
Advanced IT change detection
Cyber Hawk scans the entire network, checking for things that monitoring tools can't see. It analyzes data from end users, assets and configuration settings and finds crucial changes that represent risk.
Direct PSA integration for service tickets
Improve productivity and efficiency with automatic ticket creation in the leading professional service automation (PSA) tools. Cyber Hawk integrates with Autotask, ConnectWise, BMS and TigerPaw One.
React Fast to Critical Network Changes With Cyber Hawk
With cyber threats on the rise, organizations must do everything possible to reduce risk. Critical changes to your network that could signal insider threats. Learn how Cyber Hawk helps discover these changes and protect against them.
Download Now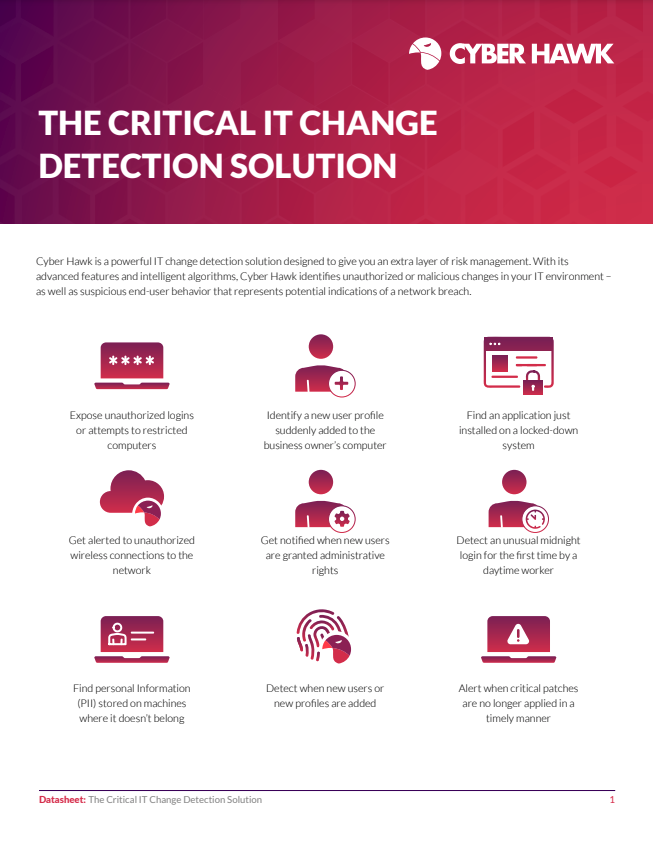 Automated Change Alerts and Summary Reports
Cyber Hawk performs a daily sweep of your entire network and notifies you by email about critical IT change events and activities. It reduces the need for constant manual review of logs and data. Weekly change reports help easily check for less urgent anomalies and changes that warrant further investigation.
Access control changes
Stay informed about important access control changes to prevent potential security breaches. Expose unauthorized logins or new attempts to access restricted computers. Get alerted when a new user profile is added.
Endpoint changes
Be notified about key changes to your endpoints, such as new applications or drives added on locked-down systems, or if critical patches are no longer applied. Quickly identify any unauthorized changes or malicious activities to take immediate action.
Domain user changes
Be notified if users are elevated to domain administrators without your knowledge, whether by accident or through access breach. Reviewe and take action immediately if the change was unauthorized.
Switch port changes
Be alerted to changes in switch port connections that may indicate that someone may be attaching a device to the network, detected by inspecting what is plugged into each switch and comparing to the last connection.
See How Cyber Hawk Works
In this video, see how Cyber Hawk Cyber Hawk plays a crucial role in identifying unauthorized or malicious changes in an IT environment that represent potential threats.
Get My Demo
Featured Workflow Integrations for Cyber Hawk
As part of the IT Complete Suite, Cyber Hawk works seamlessly with.
Cyber Hawk + IT Network Assessments
Go beyond the changes to see what caused them with the addition of Network Detective Pro.
Explore Network Detective Pro
Cyber Hawk + Vulnerability Management
Detect additional changes to your risk profile with feeds from VulScan directly into Cyber Hawk.
Explore VulScan
MSPs
Win new business, expand client relationships, and drive recurring revenue with comprehensive risk management and compliance services. Protect your clients better while earning a greater share of their IT spending.
Explore Solutions
IT Departments
Foster safer, more compliant operations with automated, data-driven IT assessments. Measure risk to optimize and secure your organization.
Explore Solutions