Measure Risk with Automated Network Scanning Tools
Automate collection of data across the entire network to identify and respond to risk. Network Detective Pro is an IT assessment solution that identifies risks and issues, scores their severity and presents them in actionable dashboards and dynamic reports.
Make Your IT Network Assessments Work for You
Enhance network visibility and gather data from across the IT environments you manage. With Network Detective Pro you can uncover, prioritize, and manage risks and issues.
Improve issue discovery with automated network scanning
Ensure the integrity of your systems with automated data collectors. Network Detective Pro uses non-intrusive data collectors, light-weight discovery agents, and powerful scanners to identify risks quickly.
Respond to incidents and troubleshoot with speed
Reduce risk efficiently with detailed management plans and remediation guidance that scores network threats and issues based on severity. Customize which IT issues are reported and the importance that they are given in an assessment.
Show value with executive and technical reporting
Gain insights with automated reports. From technical reports for documentation and troubleshooting, to high level summaries for executive presentations. Demonstrate your value to any IT stakeholder.
See How Network Detective Pro Works
As a managed service provider (MSP) or network administrator, you want to know exactly what is on the networks you manage, and where the risks are. Network Detective Pro automatically identifies the risks, scores them so you can prioritize your work, and presents your data in your choice of professionally formatted, editable reports.
See how you can generate IT assessments with Network Detective Pro. From technical risk assessments to remediation planning to service ticket creation to executive reporting, Network Detective Pro covers it all.
Take Interactive Tour
Powerful Features for Your Network Scanning and Assessments
Network Detective Pro is a comprehensive solution that provides deep insights into your network infrastructure. Its innovative and powerful capabilities allow you to easily gather information and monitor your network's health, vulnerabilities, and performance.
Full coverage network scanning
Gain increased network visibility through the most comprehensive network scanning techniques. Such as non-intrusive scans on Windows, macOS and Linux, as well as remote data collectors and light-weight discovery agents.
Multiple network assessment types
Reduce risk across multiple threat vectors with a variety of assessments. Focus your assessments on networks, security, cyberattack risk, MS-365 environments or SQL servers. Including Active Directory, Azure AD (Active Directory), AWS (Amazon Web Services) and more.
End-to-end scheduling and automation
Increase the efficiency and frequency of your assessments with automated data collection and analysis. Then Display insights with detailed reporting, while saving time and further minimizing risk.
Standard and proprietary risk scoring
Prioritize risks based on unique risk scoring algorithms as well as industry standard CVSS and Microsoft Secure Scores. Tackle the most important risks first, based on severity, likelihood of threat and impact on your organization.
Online dashboard with drill-down data explorer
Save time by accessing all discovered data from anywhere, any time through the RapidFire Tools online portal. The dashboard displays the summary info you need. Then drill in for the details and guidance on any discovered risk or issue.
Workflow integrations with other applications
Seamlessly convert discovered issues into PSA service tickets, or into ITGlue for updated network documentation. Pull in data from VulScan, Dark Web ID, MS 365 and other apps to generate expanded reports.
What to Look for in Network Assessment Software
With cybercrime becoming increasingly sophisticated, what you don't know can hurt your organization. In this buyer's guide, learn about the tools you need to implement an effective IT assessment strategy to identify threats.
Download Now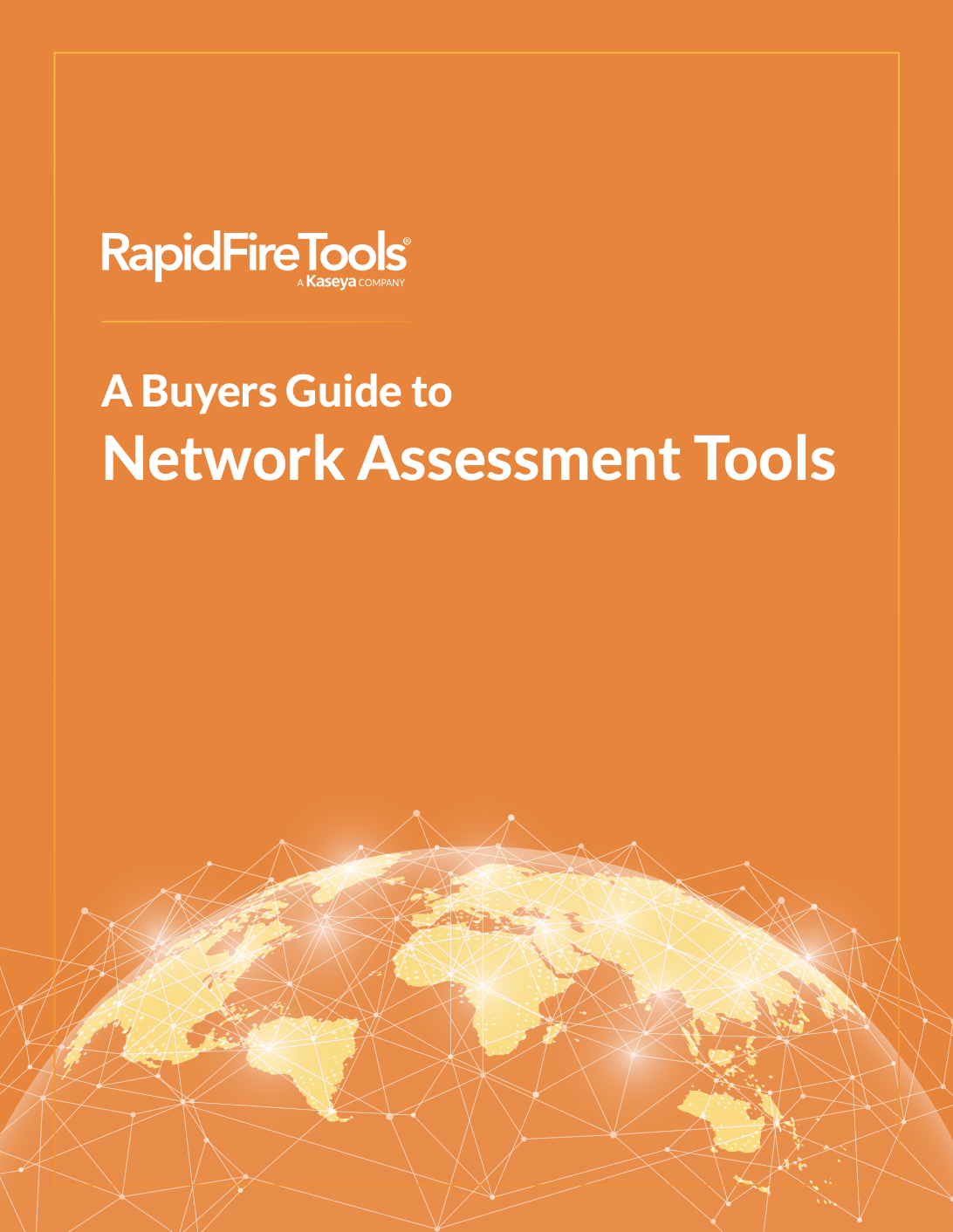 Automated Network Assessment Reports for Every Use Case
Network Detective Pro provides an extensive library of dynamic reports populated with the data from your network scans. The automated branding engine customizes the look and feel of the document to match your organization. Troubleshoot issues faster with technical reports and show key stakeholders the value of what you do.
Executive infographic summary reports
Get a high-level overview of your network health on several topics, with charts, graphs, and vital explanations in a non-technical language. Use them to communicate IT issues, risks and progress to a non-technical.
Risk summary reports
Review all discovered issues and risks, each scored based on its severity and impact. MSPs use these reports to close business with prospects. IT departments use them to present network risks to key stakeholders for resource allocation.
Risk management plans
Act on full details on all issues and risks discovered, including the risk score and expert advice on recommended remediation steps. IT technicians use these reports to ensure the most important risks and issues are addressed first.
Full detail reports
Compile a complete snapshot of the state of a network at specific points in time. Everything discovered is presented as line items in an organized, editable report. Problem areas are conveniently highlighted in red. Use for documentation and troubleshooting.
Technical business reviews
This document is ideal for Managed Service Providers and IT department heads to use as part of regular stakeholder reviews. It includes key performance indicators, addressed and current issues, SWOT analysis, and action plans.
Detailed ⁠IT change reports
This spot check compares what has changed from one period to another. Including changes to computers, users, access, storage, peripherals and more. Use it to quickly see changes since the last assessment and verify that planned changes have been executed.
End-user data reports
Choose from several reports of end-user data and activities coming from active directory and tracking of user behavior. This is a resource for IT technicians to correlate end-users with various network assets to assist in technical support and data hygiene.
Cloud infrastructure and risk reports
Perform complete assessments on all main Microsoft 365 Services. Including Teams, SharePoint, OneDrive, and Exchange. You can also generate reports on Azure, Active Directory and Amazon Web Services.
Our Ongoing Innovation in Network Assessments
Cyberattack Risk Assessment
Perform a quick and easy spot check of any network with Network Detective Pro. Scans can be run by any end-user via a personal link. It's completely safe with no installs. The assessment tool is fully automated, and the brandable risk report is generated within minutes of the scan to provide a snapshot of the risks on any network.
Released May 1, 2023
macOS Discovery Agents
Perform scans on macOS and Linux systems in addition to Windows. Network Detective Pro pulls in detailed data to feed dyanamic reports, including Full Detail Report, Full Detail Change Report, Excel Export, and Asset Detail Report.
Released May 15, 2023
AWS Export to IT Glue
Integration to populate IT Glue Organization's flexible assets with AWS assessment data (EC2, IAM, RDS, S3, Services, Region)
Released March 23, 2023
Datto Continuity "HERO" Report
This "HERO" Report, combines all asset information from BCDR, Datto Continuity for Microsoft Azure, Cloud Continuity for PCs, and Datto SaaS Protection, all into a standard Network Detective Pro report.
Released March 23, 2023
End User Initiated Computer Scans
Send a custom link to any end-user by email to have them initiate a data scan of their own device -- no technical knowledge or complicated instructions required.
Released December 8, 2022
Organizational Updates from IT Glue
Instantly onboard new organizations inside of all the RapidFire Tools applications directly from IT Glue. Organizational updates made in IT Glue automatically update all RapidFire Tools orgs.
Released November 23, 2022
Network Detective Pro + AWS Cloud Assessments
Automated AWS Infrastructure discovery and reporting made easy.
Released September 1, 2022
Featured Workflow Integrations for Network Detective Pro
As part of the IT Complete Suite, Network Detective Pro works seamlessly with.
Network Detective Pro + Vulnerability Management
Network Detective Pro automatically pulls data from VulScan to deliver enhanced risk assessment reports.
Explore VulScan
Network Detective Pro + IT Change Detection
Cyber Hawk generates alerts for the critical IT changes included in Network Detective Pro's change reports.
Explore Cyber Hawk
Network Detective Pro + IT Compliance
Network Detective Pro enhances the compliance assessments generated by Compliance Manager GRC.
Explore Compliance Manager GRC
MSPs
Win new business, expand client relationships, and drive recurring revenue with comprehensive risk management and compliance services. Protect your clients better while earning a greater share of their IT spending.
Explore Solutions
IT Departments
Foster safer, more compliant operations with automated, data-driven IT assessments. Measure risk to optimize and secure your organization.
Explore Solutions
Frequently Asked Questions About Network Detective Pro and Network Scanning
A network security assessment is a thorough evaluation of how safe an organization's computer network is. It looks at things like the network's structure, systems, and rules to find any possible weaknesses or risks. The assessment involves carefully studying the network's security measures, rules, and ways of doing things to see if they are effective at stopping unauthorized access.
Here is why a network assessment is crucial:
A network assessment gives you an in-depth analysis of your

IT environment

to help you make informed decisions regarding system upgrades and overall maintenance.
It gives you a clear roadmap to help you revamp your IT infrastructure, helping you save money and giving your team the time to focus on strategic activities.
A strong network assessment gives you full visibility into your organization's

network

to chalk out a proactive security strategy against global cyberthreats as well as end-user vulnerabilities.
Network assessments expose loopholes in your current operations, presenting you with opportunities for improvement.
A network assessment should be seen as an invaluable tool for refining critical processes that even the most competent IT pro might have overlooked. However, to get the most out of a network assessment, one must take a holistic approach and include the following crucial components:
Network assets
A network asset is any data, device or component that supports a company's IT infrastructure such as hardware, software and physical devices. The assessment will help identify devices that are obsolete, vulnerable or nearing their end, which in turn will reveal devices that may not be meeting compliance requirements.
IT security framework
There has been a major shift in the cybersecurity landscape, with expert cyberthieves constantly on the prowl looking to exploit system vulnerabilities. This means organizations can no longer merely rely on antivirus and strong passwords. An assessment of the IT security framework helps companies find existing vulnerabilities in their systems and the subsequent security assessment report can help strengthen their infrastructure.
Performance analysis
The aim of an IT infrastructure is to ensure the smooth flow of data. A network assessment helps identify over- or under-utilized technology that affects the overall performance of the network. Based on the analysis, IT pros can allocate resources to enhance system performance.
Cloud setup
With organizations becoming increasingly dependent on the cloud, it is crucial that businesses leverage cloud computing technology. Whether you are using cloud-based services for backup, recovery and file-sharing, or to run cloud-based applications, building a solid security infrastructure is a must.
A network assessment is extremely valuable for IT departments to make more informed and strategic decisions with maximum cost-efficiency. The process can be performed manually by a team of analysts and engineers who will first need to create the assessment and then run tests to get a comprehensive understanding of the IT network. However, this can be tedious and time-consuming.
Through the use of automated network assessment tools, results can be achieved in the timeliest and most resource-efficient way, allowing you to take advantage of advanced capabilities. With an automated tool such as Network Detective Pro, you can scan a massive amount of network, cloud, asset and user data. Its non-intrusive scanners can scan and help you prepare hundreds of customizable reports within minutes without burdening your IT professionals.
A network assessment tool is a software solution that helps businesses streamline and automate network assessments. A network assessment tool has several easy-to-use features that help MSPs and SMBs save time and money, ensuring resources are used effectively. Here are some features to look for in a network assessment tool:
The ability to non-intrusively collect detailed information on all network assets, including those not physically connected to the network.
The ability to Identify risks from misconfigurations, network vulnerabilities and user threats.
The ability to support all environments, from on-premises to remote, to the cloud, to work-from-home
The ability to produce highly customizable value-proving reports.
Flowbite is an open-source library of interactive components built on top of Tailwind CSS including buttons, dropdowns, modals, navbars, and more.
Whether you are an MSP managing several clients or an SMB, a network assessment tool can help you build an efficient IT management plan. Here is how you can do it:
Admins can use a network work assessment tool to evaluate the overall health of their client's IT infrastructure and identify areas of improvement to further optimize performance.
You can use a network assessment tool to ensure your business or your clients are in full compliance with necessary regulations by conducting regular network assessments, carrying out remediation efforts to fix the discovered issues and documenting the entire process.
Companies can utilize network assessment tools to identify network configuration errors that can then be fixed to enhance the security of their network.
While prospecting for new clients, MSPs can run non-intrusive scans to gauge the scope of work and generate insightful reports to justify the need for their service.
Both MSPs and businesses can regularly run scheduled automated assessments as part of their IT management plan to maintain network and system health.